ADVERTISEMENT


Boston Phoenix
Unsexiest Men in the News: Sham Wow guy arrested for punching alleged hooker
Published 3/30/2009 by Ryan Stewart
According to the Smoking Gun, Vince Schlomi, a/k/a "Vince Offer," a/k/a "the Sham Wow guy," a/k/a #2...
Boston Phoenix
This day in Unsexy history: Gilbert Gottfried
Published 3/26/2009 by Greg Cook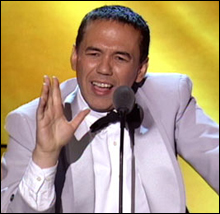 Gilbert Gottfried was the, uh, winner of our inaugurial Unsexiest Men of the Year list in 2006. He was recently interviewed about the honor:
GILBERT: The Phoenix Sun did a list of the unsexiest men in the world and I made it to number one. I beat out Bin Laden. He's a terrorist, hasn't bathed in months. I beat him out. To me it was a great honor.

JOHN DEBELLIS: No one deserves that title more than you.
GILBERT GOTTFRIED: My sentiments exactly. It was the best publicity I ever had. It went all over the world, Japan, China,. India, Korea... Europe. In Russia they retitled the article as "The Most A Sexual man

ADVERTISEMENT

ADVERTISEMENT